FRIDAY 8TH AUGUST 2014
PEC ZWOLLE 2 – 0 FC UTRECHT
PEC Zwolle were victorious in the first game of the 2014/15 season rather comfortably against a weak FC Utrecht side at the IJsseldelta Stadion this evening, however they left it late to score the goals in a 2-0 win.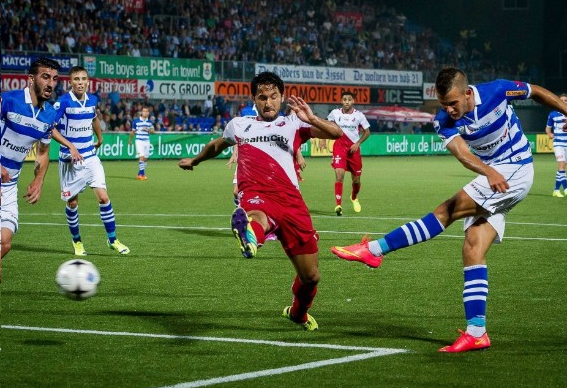 As the rain poured down, it was a cautious start, after Jesper Drost headed over in the opening minutes, we had to wait until ten minutes gone to witness our first shot on goal. Mark Diemers, playing in an advance right midfield role for Rob Alflen's side had a pop from the outside of the area, however, Zwolle goalie Diederik Boer saved easily.
The hosts looking good on the counter attack with the pace of Mustafa Saymak, Jesper Drost and Jody Lukoki sprung open the Utrecht defence when right-back Bram van Polen lobbed a ball forward. Drost rose above Anouar Kali to nod the ball into the path of Saymak, but unfortunately the 21-year-old midfielder latched at his half-volley, and Robbin Ruiter was able to parry as he hurried out to meet the onrushing Saymak.
Zwolle continued to create chances and became the more productive of the two sides especially with the through balls from Saymak, sitting in a role where Kamohelo Mokotjo would have been located, before his transfer to FC Twente this morning. The quick-thinking, creative passing from Saymak made you think Mokotjo was present. In addition, new signing Lukoki was frightening down the right-wing and gave Christian Kum, a summer signing from Heerenveen, a torrid time down Utrecht left side of defence. The fans inside the IJsseldelta Stadion will be pleased the former Ajax man has signed a three-year permanent deal.
Apart from set-pieces, the visitors rarely threatened. Jens Toornstra's balls from the left with the danger and on 23 minutes, the midfielder whipped one perfectly into the back post for Willem Janssen to nod straight into Boer's arms.
Zwolle central defender Trent Sainsbury took a knock in a challenge with Leon de Kogel and was subbed off by Maikel van der Werff just before the half-hour mark and Utrecht made a replacement minutes later. Fearful of Lukoki, Utrecht coach Alflen took off Kum and brought on 21-year-old defender Yannick Cortie. Cortie, who is more comfortable in the centre of defence, made a slight improvement but could not keep Lukoki quiet.
Zwolle kept pressing but failed to find a goal before half-time. Chances for Bart van Hintum and Drost went begging and just before the interval, Van Polen went close with a front post flick from Lukoki's corner. Holding midfielder Ben Rienstra, a new signing from Heracles, got a rare opportunity to get forward and lashed a low shot wide of the goal before referee Eric Braamhaar blew for half-time.
It was a slower tempo in the second half as Utrecht closed down Zwolle's attacks and took control of the game and started to get into the play, however either goalkeeper's gloves were hardly tested.
As the hour mark passed, Ron Jans decided to make a change up front with of his new Greek striker, Nikos Ioannidis, on a two-year loan from Olympiakos with a view to a permanent move replaced Stef Nijland as the lone man up front. The 20-year-old got involved straight away, holding the ball up to play Saymak into the area on the right side, but Saymak's shot was easily parried again by Ruiter.
When it looked like a goal was never going to come it arrived. Another bit of magic from man of the match Lukoki as the winger cross a ball into the area and when Ramon Leeuwin failed to clear it with his header, Jesper Drost was at the back post to finish across goal. This is the 25th consecutive game that Utrecht have failed to keep a clean sheet, not a feat to be proud of.
Lukoki received a standing ovation from the home fans when Soufain Moro, a free transfer this summer from Utrecht, replaced him with seven minutes remaining. The 21-year-old made an impact against his former side with seconds of the game to go.
We have seen it a million times when goalkeepers head up the pitch to try and win the header from a corner in stoppage time to rescue a point. Unfortunately for Ruiter, he was stuck in no man's land when the corner was quickly cleared and the ball fell to Moro deep in the Zwolle half. After a quick glance at the empty goal, Moro sent a high looping shot and the ball carried in the air perfectly as it flew into the net.
The referee below virtually instantly after the restart and Zwolle pick up an excellent 2-0 win to get their campaign underway. For Utrecht, this resembled more of the same from the Wouters era and unless they get their act together quick, it could be another long season for the Utrechters.
TEAMS
ZWOLLE: Boer, Van Polen, Sainsbury (Van der Werff 27), Broerse, Van Hintum, Saymak, Rienstra, Drost, Lukoki (Moro 83), Nijland (Ioannidis 64), Thomas.
SUBS NOT USED: De Jong, Mahmudov, Dekker, Fernandes Pereira.
GOALS: Drost 75, Moro 90+3.
BOOKINGS: Ioannidis 90.
UTRECHT: Ruiter, Van der Maarel, Leeuwin, Heerings, Kum (Cortie 30), Janssen, Kaloi, Toornstra, Diemers (Sarota 75), De Kogel (Markiet 59), Barazite.
SUBS NOT USED: Verhoeven, Ayoub, Quesada, Antwi.
GOALS: None.
BOOKINGS: Janssen 34, Kali 37.
MAN OF THE MATCH: Jody Lukoki (PEC Zwolle)
Click the name above to follow Will on Twitter.