A crazy day in the Dutch top flight that ends a crazy week of games with goals galore. Ajax had the chance to pull away from the chasing pack in the Eredivisie title race but they were held to a 1-1 draw to a PEC Zwolle side who could have stole all three points today. 
Sunday 9th February 2014
HERACLES 1-1 CAMBUUR
Heracles and Cambuur shared the points in the opening game of Sunday, it was a late goal for the home side that shattered Cambuur hopes of clearing themselves out of relegation trouble for now.
It was a slow start to the game in the Polman Stadion with both sides failing to create any chances in the opening twenty minutes of the match but the away side took the lead after 23 minutes gone.
A long ball forward was latched on by Cambuur's on-loan striker Elvis Manu, and the Feyenoord man held off the challenges of Bart Schenkeveld and with Jeroen Veldmate failing to get across in time, the 20-year-old used great composure to finish to give the visitors the lead.
Heracles had their chances but no more so than the horrendous miss of the on-loan Mikhail Rosheuvel in the 47th minute. A cross came in from the left where the AZ man dived for a header which flicked up and smacked off the crossbar from just four yards out. If he had made the choice to stick a boot on it instead he possibly would have scored.
Rosheuval had a better effort a few minutes later, latching on a long ball, and taking Lucas Bijker out of the challenge with his great first touch but his shot was straight at Leonard Nienhuis who parried the shot away.
It was end to end stuff as a few minutes later, Marcel Ritzmaier, on-loan from PSV, smashed a 20 yard shot off the opposite crossbar.
The points were snatched away from the visitors as Heracles got the goal to grab a point with just a minute of the game remaining, a corner was nodded home by Mike te Wierik.
TEAMS
HERACLES: Pasveer, Veldmate (Powel 85), Davidson, Schenkeveld, Te Wierik, Cziommer, Rienstra, Bel Hassani, Bruns (Tannane 47), Uth, Rosheuvel (Amoah 79).
SUBS NOT USED: Telgenkamp, Koenders, Van Dijk, Belterman.
GOALS: Te Wierik 89.
BOOKINGS: Reinstra, Schenkeveld, Tannane.
CAMBUUR: Nienhuis, Bijker (Pereira 64), Droste, Van der Laan (Van Boxel 81), Leeuwin, Ritzmaier, El Makrini, Bakker, Lukoki, Manu, Hemmen (Barto 68).
SUBS NOT USED: Zeinstra, Van Brakel, Van Moorsel, Schepers.
GOALS: Manu 23.
BOOKINGS: Bijker.
PEC ZWOLLE 1-1 AJAX
The 12,500 present inside the IJsseldelta Stadion will wonder how Ajax got out of the stadium with a point after an action-packed game on Sunday afternoon.
Ron Jans can be proud of his PEC Zwolle side who more than held their own against an Ajax side that were frustrating in front of goal once De Boer's men took a 1-0 lead after just seven minutes.
Central defender Joel Veltman made a marauding run down the right and after skipping two challenges, Joost Broerse brought the defender down. The in-form Lasse Schöne whipped in a free-kick into the front post where Davy Klaassen nodded in the opening goal.
Siem de Jong really struggled today and must have misplaced his shooting boots as on 21 minutes he produced a terrible miss by his standards. Totally unmarked, the Dutchman volleyed over the bar after Ricardo van Rhijn had supplied the perfect cross for him.
Quarter of an hour later, the score was level. Winter transfer window signing Thanasis Karagounis played a defence splitting through ball onto Guyon Fernandez. The on-loan striker took advantage when Ajax 'keeper Kenneth Vermeer failed to collect and the Feyenoord man finished in the empty goal.
Diederik Boer saved Zwolle a few times in the match and no more important save then just before the interval when he denied Veldman's header from the back post after Daley Blind crossed from deep. It was a point blank stop that got the crowd cheering louder than the Fernandez goal.
Ajax really picked up the pace after the break and forced save after save out of Boer. Schune, De Jong and Bojan all deprived of a goal due to the hands of the 6ft 4inch stopper.
Zwolle could see Ajax tiring and on 69 minutes, Jans will wonder how his team did not take the lead. After Fred Benson smashed his shot from outside the area against the foot of the post, the rebound fell perfectly to Jesper Drost, but even with Vermeer out of position the 21-year-old midfielder lashed his shot off the crossbar and out. Frank de Boer gave out a sigh of relief on the touchline.
With 12 minutes to go, Zwolle should have definitely clinched all three points but De Boer can thank Veldman for saving the single point. Karagounis and the onrushing Vermeer ran onto a free ball and the Greek midfielder beat the 'keeper to the ball. The signing from Atromitos played in Fernandez and as the striker was pulling back to fire the trigger, Veldman dived in and nicked the ball away at the right time.
On the final whistle, Jans was all smiles and De Boer was miserable but he should be smiling, as Ajax are now five points clear at the top of the league and he should feel relieved that he got out of the IJsseldelta with something. However, second placed FC Twente have a game on hand against a poor Groningen side on Wednesday night.
TEAMS
ZWOLLE: Boer, Gravenbeek, Van Polen, Broerse, Van Hintum, Klich, Drost, Karagounis (Nijland 91), Saymak, Mahmudov (Thomas 75), Fernandez (Benson 64).
SUBS NOT USED: Begois, Epe, Patricio, Pereira.
GOALS: Fernandez 36.
BOOKINGS: None.
AJAX: Vermeer, Van Rhijn, Veltman, Moisander, Riedewald (Sigthórsson 75), Klaassen, Blind, Serero (Duarte 72), Schöne, De Jong, Bojan (Fischer 60).
SUBS NOT USED: Van der Hart, Ligeon, Denswil, Poulsen.
GOALS: Klaassen 7.
BOOKINGS: None.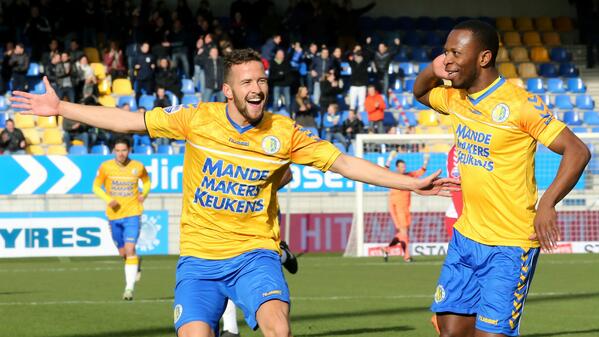 RKC WAALWIJK 5-2 FC UTRECHT
In a game that had virtually everything RKC put Jan Wouters in major trouble as they beat his Utrecht side by five goals to two.
The Utrecht manager is now under major pressure after seeing his side slip down to 14th in the league and just three points off the relegation places.
The goal fest began after an error from Yassin Ayoub played in Romeo Castelen. Ayoub flicked a header backwards thinking he was playing it to safety, but Castelen lashed a first-time half-volley that dipped under Robbin Ruiter's crossbar after just eight minutes of play.
The game was tied four minutes later as Jens Toornstra converted a penalty after on-loan defender Prince-Désir Gouano was punished for a handball in the area.
The scoring stopped until 11 minutes from time, where the game got incredibly wild with five goals in just fourteen fun-filled minutes. Daniel de Ridder gave the hosts the lead with a 25 yard strike after the Utrecht defence failed to close him down.
Utrecht collapsed and a minute later, Kenny Anderson added a third to the tally. Straight from the kick-off Utrecht's Steve de Ridder made it 3-2 with a wonderful solo effort.
On 86 minutes, Utrecht had a glorious chance to level the game to 3-3 after Jonas Ivens was deemed to handballed Steve de Ridder shot on goal, however, Toornstra smashed his spot-kick off the post. It got for Toornstra with just a minute of normal remaining, French striker Jean-David Beauguel latched on a Toornstra backpass and made it 4-2.
Luxembourg international Aurélien Joachim made it five in third minute of stoppage time and Beauguel and Daniel de Ridder combined to play the striker in. The Luxembourgian rounded Ruiter and  slotted home.
Utrecht need to get points and quick and in all honesty, Jan Wouters might be lucky to still be on the bench next weekend when they visit AZ Alkmaar.
TEAMS
RKC: Šeda, Anderson, Apau, Van Hoevelen, Amieux, Gouano (Ivens 41), Castelen (Beauguel 85), Duits, Sno, Joachim, Schet (D. De Ridder 46).
SUBS NOT USED: Van Dijk, Jungschläger, Braber, Van Weert.
GOALS: Castelen 8, D. De Ridder 79, Anderson 81, Joachim 90, Beauguel 90.
BOOKINGS: Duits.
UTRECHT: Ruiter, Van der Maarel, Delpierre, Markiet, Dorda, Ayoub, Toornstra, Quesada (Koevermans 84), S. De Ridder, Agudelo, Oar.
SUBS NOT USED: Verhoeven, Diemers, Badjeck, Van Der Winden, Klaiber, Van Velzen.
GOALS: Toornstra 10P, S. De Ridder 82.
BOOKINGS: None.
FC GRONINGEN 1-3 HEERENVEEN
In the 'Derby van het Noorden', a zany six minutes of madness cost Erwin van de Looi's Groningen the game in the final game of Week 23.
Early on Kenny Otigba and Maikel Kieftenbeld had fouls unpunished; however, they both saw the red card before the full-time whistle.
The home side looked good going forward and should have took the lead on 26 minutes when Eric Botteghin emerged forward and drove a powerful low shot towards the Heerenveen goal. Unfortunately for the Brazilian defender, Swedish keeper Kristoffer Nordfeldt pulled off a great save to tip wide.
As always Heerenveen are the most dangerous on the counter attack and today proved no different. On 33 minutes, straight from a Marco Bizot goal-kick, Marten de Roon headed back up the field into the feet of Alfred Finnbogason. The Icelander fired a ball forward for Rajiv van la Parra to run onto, the young winger then lashed the ball past the stunned Bizot for the opener.
Groningen fell to pieces and three minutes later, they found themselves two goals down. Again on the counter, Van la Parra and Hakim Ziyech combining with one-twos until Ziyech finished.
Things were getting messy for Van de Looi's men and it was 3-0 and they were down to ten men on 39 minutes. Alfred Finnbogason skipped past Bizot and was ready to turn and finish into the goal until Kieftenbeld saved with his hands on the goal-line, the striker converted the resulting spot-kick.
Referee Bas Nijhuis had to dish out the red again with just under twenty minutes of time remaning which level the teams up. As Groningen's Michael de Leeuw was running through on goal, Kenny Otigba was last defender and the Hungarian seemed to clip the midfielder's heels.
Groningen grabbed a 86th minute consolation goal after Genaro Zeefuik was felled by Stefano Marzo in the area and Michael de Leeuw put away the penalty kick. Marco van Basten was angry with two minutes remaning after his side had a penalty claim waved away but in all fairness the game was for him after 39 minutes. Heerenveen leapfrog back into fifth at PSV's expense.
TEAMS
GRONINGEN: Bizot, Burnet (Hateboer 46), Botteghin, Kappelhof, Wijnaldum, Chery, Kieftenbeld, Van Nieff (Zeefuik 79), Kirm, De Leeuw, Kostic (Lindgren 46).
SUBS NOT USED: Van der Lei, Adorjan, Hiarlej, Zivkovic.
GOALS: De Leeuw 86P.
BOOKINGS: Kieftenbeld, Hateboer.
SENT OFF: Kieftenbeld.
HEERENVEEN: Nordfeldt, Marzo, Otigba, Kum, Van Anholt, De Roon, Ziyech, Van den Berg (Sinkgraven 65), Van La Parra (Slagveer 87), Finnbogason, Basacikoglu (Lurling 68).
SUBS NOT USED: Vandenbussche, De Kamps, Warmotts, Van Aken.
GOALS: Van la Parra 33, Ziyech 36, Finnbogason 40P.
BOOKINGS: Marzo, Lurling.
SENT OFF: Otigba.
STANDINGS
Click the name above to follow Will on Twitter.