Once he was dubbed the next Thierry Henry. The following decade has seen him drifting from Abu Dhabi to Galicia to an unexpected revival in Istanbul. But Cetin Cem Yilmaz asks can Ryan Babel save Fulham from relegation? 
"I can't do the goal celebration by myself, sorry."
We are standing in the middle of an empty stadium: Ryan Babel, a videographer and me. We are at the Beşiktaş Park on a weekday morning and shoot some B-roll footage to accompany our UEFA.com interview. We ask the Dutchman to replicate a goal celebration but the answer is negative.
"I only have one celebration," he says, adding that he doesn't do that alone. The move involves two players jumping in unison and crashing into each other. This is just a celebration but somehow fits into Ryan Babel's role at Beşiktaş. Since arriving at the Black Eagles in January 2017, he has never been the leading man but always excelled in the supporting actor role and he will need to do more of the same to save Fulham from relegation.
YEARS OF REVIVAL
Babel arrived in Turkey as a player who barely revived his career in Deportivo La Coruña, following spells at Kasımpaşa and Al Ain. He is leaving Turkey now as a well-decorated player. In the two years since his arrival, no player in the Turkish top-flight has won more games than him (52). This stretch includes a Super Lig title, a UEFA Europa League quarterfinal appearance against Olympique Lyon (losing on penalties), an unbeaten UEFA Champions League group campaign (a record for a Turkish team), and a return to the Netherlands national team after six years of absence.
| | | |
| --- | --- | --- |
| Player | Goals | Games* |
| Anderson Talisca | 31 | 70 |
| Ryan Babel | 29 | 89 |
| Cenk Tosun | 27 | 48 |
| Álvaro Negredo | 18 | 49 |
| Vincent Aboubakar | 12 | 16 |
*Beşiktaş players in all competitions since Babel's arrival in January 2017
He redeemed himself at Beşiktaş, but helped the Black Eagles a lot on the way. Only Anderson Talisca has scored more goals (31) for Beşiktaş than Babel (29) since his debut, but the Brazilian did that in playing 19 games less. Still, that is remarkable for him, given he was outscored not only by Fernando Torres, Steven Gerrard and Dirk Kuyt, but also by David Ngog whilst at Liverpool (Ngog scored nine Premier League goals in a red shirt onwards 2008, while Babel managed only eight in that period – overall, it was 12 in 91 games for Babel).
| | | |
| --- | --- | --- |
| Player | Assists | Games |
| Ricardo Quaresma | 30 | 82 |
| Oğuzhan Özyakup | 21 | 84 |
| Caner Erkin | 15 | 62 |
| Anderson Talisca | 13 | 70 |
| Ryan Babel | 12 | 89 |
Beşiktaş players in all competitions since Babel's arrival in January 2017
What he did in the assists department is not striking at first glance: He is the fifth Beşiktaş player in that regard. Ricardo Quaresma and Oğuzhan Özyakup dwarf him in that category while even Caner Erkin and Anderson Talisca delivered far more in fewer games.
CONSISTENT SCORING
If you look at his overall stats throughout his career, you see a guy delivering similar stats in minutes per goals or assists, either as the wonderkind in Amsterdam, or "the next Thierry Henry" at Merseyside, or the fall guy in the periphery of the Süper Lig elite at Kasımpaşa. Babel kept scoring or assisting once in every two games. His image and career trajectory might suggest otherwise, but Babel is a pretty reliable player in terms of production. And while Fulham fans should not expect him to go on a scoring spree, they can be relieved that he would be there, getting on the score sheet every two weeks (Fantasy Premier League players, take note!).
| | | | | |
| --- | --- | --- | --- | --- |
| Team | Games | Goals | Assists | Mins/Goal Involvement |
| Liverpool | 146 | 22 | 18 | 167 |
| Ajax | 133 | 29 | 19 | 175 |
| Hoffenheim | 51 | 6 | 4 | 412 |
| Kasımpaşa | 59 | 14 | 12 | 190 |
| Deportivo | 12 | 5 | 1 | 130 |
| Beşiktaş | 89 | 29 | 12 | 181 |
Beşiktaş players in all competitions since Babel's arrival in January 2017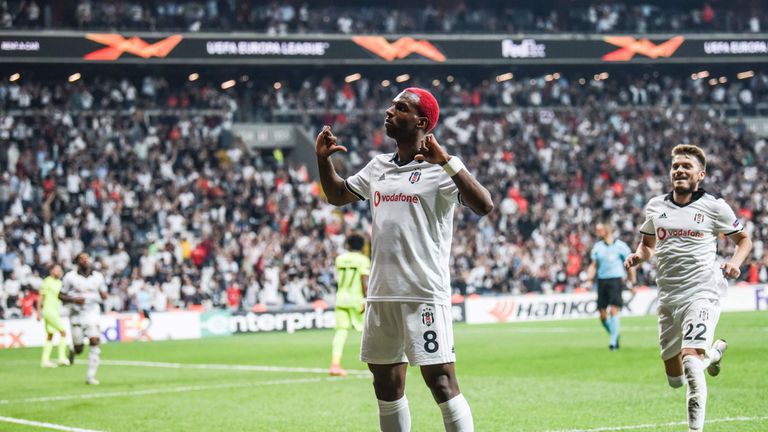 THE ENABLER
However, Ryan Babel did something more in his second trip to Istanbul. He was just another member of a star-studded frontline at Beşiktaş, and managed to shine when it mattered. The front four of Quaresma – Talisca – Babel – Cenk (Aboubakar in his first half year) was plenty for opposition to handle – especially in Europe, when Beşiktaş had the luxury to find more spaces instead of a squeezed box-play in the Süper Lig. Throughout 2017, Beşiktaş faced remarkable European opposition in the shape of Porto, Monaco, RB Leipzig, Olympique Lyon, Olympiakos – and were never outplayed.
Babel struck key goals in Europe, and overall, he scored with 43 percent of his shots (six goals from 14 shots) in Europe, compared to his still-admissible 22 percent shot conversion rate in the Süper Lig. Much more than this, his movement and intelligent play gave Talisca and Cenk the perfect stage to shine (both made very lucrative deals to China and England, respectively). While right winger Ricardo Quaresma is a trigger-happy crosser, Babel offered flick-ons, one-offs or cutbacks from the other wing – that was how Talisca and Cenk scored dozens.
FULHAM DIAGNOSIS
But what should Fulham be expecting from Babel? After all, a brief look at the table would show their main problem is not the attack, but rather the fact that they are leaking goals. At 49, they have allowed at least six goals than the next poorest defence, which is Burnley, and their goal difference is a shocking -29. For comparison, they have scored 20 goals as did Crystal Palace, who are slightly more comfortable on 14th spot.
However, Fulham, unlike other relegation-battlers, are a team looking to have more time on the ball. Their average possession of 47.1 percent is 10th in the league.  Their passing accuracy is 78.4 percent, sandwiched between other purveyors of the beautiful game, Wolves and Bournemouth (all trail "the Big Six"). Their 177 successful passes in the opposition half per game is better than any other team besides "the Big Six" in the Premier League.
What they do with the ball is another question: Fulham are only sixth from bottom when you question successful passes in the final third (76.7 per game). Despite all this possession stats, they shoot 12.1 per game, and this is higher than only six clubs in the league. And, 47.6 percent of their shots are from outside the box – the higher rate in the league. This 127 shots overall has an xG of 3.25 (mind you, they have only two goals from outside the box).
| | |
| --- | --- |
| Team | xG |
| Huddersfield | 15,09 |
| Newcastle | 19,32 |
| Brighton | 22,38 |
| Fulham | 23,02 |
| Cardiff | 23,33 |
The system in which Babel was thriving at Beşiktaş was one with four attackers but Fulham are mostly using three in the front. Claudio Ranieri is still trying to find the right mix between Ryan Sessegnon, André Schürrle and Aboubakar Kamara in either side of Aleksandar Mitrović. They all find the net every now and then, but for Fulham, the problem is more about creating than about converting. If Ryan Babel manages to be the "enabler" guy as he was in Beşiktaş, the one making spaces and enabling Anderson Talisca and Cenk Tosun to find spaces, there could be hope for Fulham.
| | | | |
| --- | --- | --- | --- |
| Team | Goals | xG | Difference |
| Crystal Palace | 20 | 25,90 | -5,9 |
| Southampton | 23 | 27,47 | -4,47 |
| Cardiff | 19 | 23,33 | -4,33 |
| Wolves | 23 | 27,25 | -4,25 |
| Newcastle | 16 | 19,32 | -3,32 |
| Fulham | 20 | 23,02 | -3,02 |
Önder Özen is a current television pundit but before that, he served at two big Istanbul clubs, as an assistant to Zico at Fenerbahçe and a sporting director to Slaven Bilic at Beşiktaş. He coached Babel during his brief head coaching stint at Kasımpaşa and would later command the Dutchman as one of the better professionals he worked with, much to his surprise. With his carefree social media presence, his ever-changing hairstyles and cool goal celebrations, it is easy to mistake him for a maverick. And indeed, sometimes he is one. In the last six months, he openly criticized Beşiktaş's Twitter account for not sharing the videos from his YouTube channel, entered into a couple of online arguments with the club's fans, even using profanity. Last month, when he was still out of the squad due to this feud, he celebrated his birthday by posting a video, which was soundtracked by all the critics dismissing him.
That is Ryan Babel for you. At his worst, you have a mutiny on your hand. At his best, he will score goals and make things better for everyone around him. The fine line between the two is usually all about support from around – the coach, teammates and the fans.
After all, he doesn't like to do things by himself.
Çetin Cem Yılmaz
Read more from Cetin here