On 24th May 2015 AFC Ajax Amsterdam celebrated the 20 year anniversary of their last European success.  It was on that date in 1995, at the Ernst-Happel-Stadion, Vienna, against the mighty AC Milan, a solitary goal, scored by substitute, Patrick Kluivert, who remains the youngest goal scorer in Champions League Final history at 18 years, 10 months and 23 days, secured the fourth and final UEFA European Cup in the Amsterdam club's decorated history. Louis van Gaal's 'golden generation' of: Kluivert,  Edgar Davids, Edwin van der Sar, Frank and Ronald de Boer, Michael Reiziger, Winston Bogarde, Nwankwo Kanu, Marc Overmars, Finidi George and Finnish international, Jari Litmanen, minus the retired, Frank Rijkaard and the departed, Clarence Seedorf, would make it to the final again a year later, losing on penalties at the Stadio Olimpico in Rome to another Italian side, Juventus.
The last Dutch continental success came seven years later in 2002 in the shape of their fierce rivals, Feyenoord, who lifted the old UEFA Cup after a 3-2 victory over Borussia Dortmund in De Kuip.  A brace (including a penalty) from Pierre van Hooijdonk and a third by Danish striker, Jon Dahl Tomasson finally saw off the German side allowing the Rotterdam giants to celebrate in front of a partisan and predominantly Dutch crowd.
That was thirteen years ago.
In the years since, FC Twente's success in the 2006 edition of the long forgotten and much lamented UEFA Intertoto Cup is all Dutch club football has had to shout about in terms of glory in European club competition and is why their current UEFA Coefficient is under threat writes Steven Davies.
UEFA Coefficients
In European football the UEFA Coefficients are statistics used for ranking and seeding teams in both club and international competitions. There are three different sets of coefficients calculated by UEFA: National Team Coefficient: used to rank and seed national teams for European competition and finals tournaments, Country Coefficient: used to evaluate the collective performance of the clubs of each member association, assigning the number of places and at what stage clubs enter the UEFA Champions League and UEFA Europa League and finally, Club Coefficient: used to rank individual clubs for seeding in the UEFA Champions League and UEFA Europa League.
In the National Team Coefficient calculated on 12th December 2013 which would decide the seeding and pot placements for the UEFA Euro 2016 qualification groups, the Netherlands found themselves sitting in third behind leaders, Spain and second placed, Germany. The coefficients were calculated by averaging: 40% of the average ranking points per game earned in the 2014 FIFA World Cup qualifying stage, 40% of the average ranking points per game earned in the Euro 2012 qualifying stage and final tournament and 20% of the average ranking points per game earned in the 2010 FIFA World Cup qualifying stage and final tournament.
In terms of Country Coefficient however, which takes into account each association's performance in European competitions from 2010-11 to 2014-15, with the ranking at the end of 2014-15 determining the number of places each association receives in the 2016-17 UEFA Champions League and UEFA Europa League, the Netherlands were recently overtaken by Ukraine leaving them languishing in a disappointing ninth place with neighbours Belgium, whose clubs have collectively outperformed their Dutch counterparts in each of the last three seasons, breathing down their proverbial necks.
In 2014/15 the Netherlands had six European places up for grabs (two entrants to the UEFA Champions League and four to the UEFA Europa League) which will be reduced from 2015-16 with only three teams entering the UEFA Europa League from the countries ranked 7th to 9th (Although Go Ahead Eagles will make it four as they have been awarded a place via UEFA Fair Play); should the Netherlands fall down to 13th they would be stripped of automatic qualification for one team to the group stages of the UEFA Champions League while the remainder would have to fight through numerous qualifying rounds to reach the lucrative UEFA Europa League group stages. An unthinkable fall out of the top 15 would result in only one Dutch team being eligible to enter the qualifying rounds of the UEFA Champions League while the rest would have a very short summer break indeed before having to compete in the early qualifying rounds of the UEFA Europa League.
Next season, 2014/15 Eredivisie Champions, PSV Eindhoven will be seeded in the draw for the 2015/16 edition of the UEFA Champions League by virtue of the fact that Real Madrid, the only side that could have prevented PSV's seeding, lost out to Barcelona for the 2014/15 La Liga crown.
A change to the rules next season means the champions of the top seven leagues as ranked by UEFA will be seeded along with the holders of the competition; Barceona, Bayern Munich, Chelsea, Juventus, Benfica, Paris-Saint Germain and Zenit St. Petersburg are thus automatically seeded. With Barcelona and Juventus contesting this year's UEFA Champions League Final and both already seeded, the extra seeding is awarded to the league ranked eighth in the UEFA Coefficients – the Eredivisie and its current champions, PSV. This will change the in 2016/17 however as the list for the 2015/16 competition is based on coefficient rankings from the 2013/14 season when the Netherlands was ranked eighth. But with Ukraine having now moved ahead of the Dutch, if the scenario were repeated, it would be the Ukrainian champions who would stand to benefit.
Club Coefficient makes even grimmer reading as no Dutch club appears in the top 25 clubs in terms of UEFA team ranking. As of 27th May 2015, Ajax find themselves just outside the top 25 in 26th place, PSV Eindhoven are 30th, AZ Alkmaar 44th just ahead of FC Twente who find themselves in 45th whilst Feyenoord only just crack the top 100 in 95th. Meanwhile, across the border in tenth place Belgium, Anderlecht occupy 41st, Club Brugge, who made it all the way to the quarter finals of the 2014-15 UEFA Europa League, are 51st, Racing Genk 57th and Standard Liege 80th.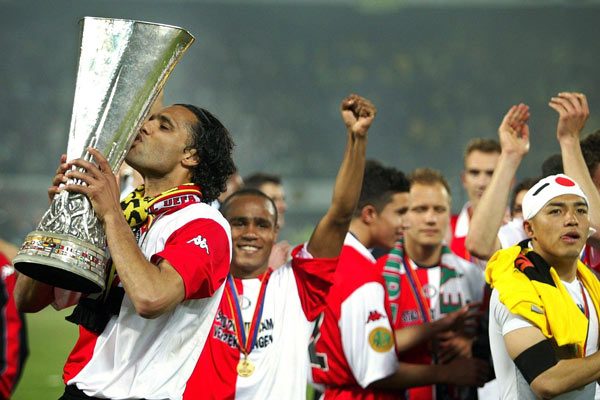 An Illustrious History
Over the course of the 40 years prior to Feyenoord's 2002 UEFA Cup triumph, Dutch clubs had been not only a mainstay in the latter stages of European club competitions but had proved ultimately successful on 16 occasions; be it in the European Cup (UEFA Champions League), UEFA Cup (UEFA Europa League), UEFA Cup Winners Cup, European Super Cup, UEFA Intertoto Cup or the Intercontinental Cup, Dutch clubs were always, at the very least, contenders.
Ajax was the first Dutch club to put its mark on European club competition when the club lifted the inaugural International (Intertoto) Football Cup in 1961-62. Their opponents were Feyenoord, with the Amsterdam club prevailing 4-2 over two legs. The competition comprised 32 clubs and was created for those clubs that would otherwise not have had a European competition to compete in.
Seven years later, Ajax appeared in their first UEFA European Cup final; their opponents were AC Milan and the venue, the Bernabeu in Madrid. Although the Dutch side would ultimately succumb to their Italian opponents 4-1, the Dutch club's appearance began a run of five successive years where Dutch teams contested the final of Europe's elite club competition with the initial loss to Milan being the only time a Dutch team failed to capture the trophy. The 1969 final would be the first for the likes of: Johan Cruijff, Piet Keizer, Sjaak Swart and Wim Suurbier and the coach, Rinus Michels; but not their last.
The following year it was Feyenoord, who graced the final beating Scottish giants, Celtic 2-1 at the San Siro in Milan through goals from Rinus Israel, who cancelled out Archie Gemmell's thirtieth minute strike before Swede, Ove Kindvall pounced in extra time to secure the Rotterdam club's only UEFA European Cup triumph in its illustrious history.
Rivals Ajax returned to the final in each of the following three seasons, taking home European club football's biggest prize on every occasion; goals from Dick van Dijk and substitute, Arie Haan seeing off Panathinaikos got the ball rolling at Wembley Stadium in 1971. The following year a brace from Johan Cruijff secured a 2-0 victory over Internazionale at De Kuip in Rotterdam in what has often been dubbed Total Football's greatest moment. Ajax's third successive victory a year later meant that the club was able to keep the trophy permanently as a single goal from Johnny Rep was enough to see off the challenge of Juventus at the Red Star Stadium in Belgrade in front of nearly 90,000 spectators. The original 'golden generation' of Cruijff, Keizer, Swart, Suurbier, Rep, Neeskens, Muhren and Krol didn't stop there, collecting the Intercontinental Cup in 1972 and the European Super Cup in 1974 before going their separate ways.
But the end of Ajax's dominance did not spell the end for Dutch clubs in general; Feyenoord took home a major European honour in 1974 as they won the UEFA Cup beating Tottenham Hotspur 4-2 over two legs and the trophy very nearly remained in Dutch hands the following year with FC Twente coming up short against Borussia Monchengladbach. Three years later the UEFA Cup would be back in Dutch possession however, as PSV Eindhoven stepped out of the shadows of the Netherlands' 'big two', beating Bastia 3-0 in the second leg through goals from Willy van de Kerkhof, Gerrie Deykers and captain, Willy van der Kuijlen; the first having ended goalless.
With the Netherlands, under the leadership of Rinus Michels and later Austrian, Ernst Happel, including the likes of: Cruijff (1974 only), Suurbier, Haan, Krol, Jansen, Neeskens, van Hanegem (1974 only), Rep and Keizer (1974 only), reaching the final of back to back FIFA World Cup's, in West Germany in 1974 and again four years later in Argentina, where they lost to the hosts on both occasions, the 1970's, it could be argued, belonged to Dutch football; at the very least, this small, football-mad nation, its players, coaches and clubs produced many of the great footballing moments of the decade.
By comparison, the first half of the 1980's proved far leaner for Dutch clubs in European club competition; AZ Alkmaar being the only Dutch club to post an appearance in a major European final between 1978 and 1987 when they lost out thrillingly to Bobby Robson's Ipswich Town, 5-4 on aggregate over two legs in 1981.
In sharp contrast however, the second half of the decade heralded the return to prominence of Dutch football and its clubs on the continent. Under the management of club legend, Cruijff, Ajax, littered with a number of soon-to-be household names of world football: Rijkaard, van Basten, Bergkamp, Winter and Muhren, claimed the UEFA Cup Winners Cup in 1987 against the East German side, Lokomotiv Leipzig, through a lone strike in the 20th minute by Marco van Basten at the Olympic Stadium in Athens. The Amsterdam club returned to the final a year later only to lose out by the same score line to Belgian side, Mechelen.
That same year PSV Eindhoven cemented their place as one of the 'big three' in the Netherlands by lifting the UEFA European Cup as part of a treble that also included the Dutch Championship and the Dutch Cup, defeating Portuguese powerhouse, Benfica 6-5 on penalties, after the game, held in the Neckarstadion in Stuttgart, ended goalless.
The summer of 1988 would prove an unforgettable one for the Dutch as the Netherlands secured its first (and to date only) international honour, coming out on top at Euro 1988 in Germany, beating the Soviet Union in the final through goals from Ruud Gullit and a legendary strike from Marco van Basten; a side boasting the likes of: Gullit, van Basten, Rijkaard and Koeman and coached once again by the imperious, Rinus Michels.
However, any hopes the Dutch had of following up this international success at club level would soon be dispelled as the majority of the newly crowned European Champions would head abroad as a familiar pattern began to emerge, just as it had in the mid 1970's and would again in the late 1990's. Marco van Basten left Ajax for AC Milan in 1987, Ruud Gullit moved in the same direction from PSV, Frank Rijkaard would eventually join Gullit and Van Basten in Milan in 1988 after a year with Sporting Clube de Portugal and a loan spell at Real Zaragoza, while Ronald Koeman would be the last of the four to depart the Netherlands, moving from PSV to Barcelona in 1989.
It would be four more years until a Dutch team graced the final of one of Europe's elite club competitions. In 1992, Ajax, under the leadership of a young coach named, Louis van Gaal, reached the final of the UEFA Cup where they faced Italian side, Torino. Van Gaal's men took the crown on away goals by virtue of drawing the first leg 2-2 through goals by Wim Jonk and Stefan Pettersson in Turin before the return leg, held at the Olympic Stadium in Amsterdam ended goalless. The Ajax side included a number who, three years later would lift European club football's greatest prize once more: Frank de Boer, Danny Blind and Edwin van der Sar, while most would head abroad and to Serie A in particular: Dennis Bergkamp (Internazionale), Wim Jonk (Internazionale) and Bryan Roy (Foggia).
These departures however, provided the opportunity for another 'golden generation' to rise through the Amsterdam club's famed youth system, emerge into the first team, win three successive Dutch Championships from 1994 to 1996 and sweep the club to that glorious triumph in Vienna on 24th May 1995.
By end of the 20th Century, that 'golden generation' too would be cut up and shared out amongst Europe's elite: Edgar Davids (Milan), Michael Reiziger (Milan), Frank and Ronald de Boer (Barcelona), Edwin Van der Sar (Juventus), Clarence Seedorf (Sampdoria), Jari Litmanen (Barcelona), Patrick Kluivert (Milan), Marc Overmars (Arsenal), Finidi George (Betis), Winston Bogarde (Milan) and Nwankwo Kanu (Internazionale); even 'super-coach' van Gaal left for pastures new in 1997, replacing Bobby Robson at Barcelona.
It goes without saying that generations of players of this calibre are few and far between and while great players have come through De Toekomst and pulled on the famous white shirt with the single red stripe since, Ajax have been unable to replicate this success at the highest level of European club competition.
Feyenoord's 2002 UEFA Cup triumph was largely built on sand as the club found itself in dire financial straits a few years later as a result of many years of frivolous spending and paying exorbitant wages.
For PSV, despite taking the ascendancy in terms of domestic success in the first decade of the 21st Century and being crowned Landskampioen seven times between 2000 and 2008; this success failed to replicate itself on Europe's biggest stage with the Eindhoven club's run to the semi-finals of the UEFA Champions League in 2004-05, where they lost out to perennial European powerhouse, AC Milan, on away goals, the closest the Eindhoven club came to a second triumph in Europe's premier club competition.
Dutch Influence
Perhaps a more accurate gauge of the impact of the Dutch on European club football is that of the success of its exported players and coaches:
Johan Cruijff brought domestic success as a player at Catalan giants, Barcelona the 1970's under fellow Dutchman and ex-Ajax Coach, Rinus Michels and later, continental success as a coach in his own right, winning the UEFA Cup Winners' Cup in 1989, as well as the UEFA European Cup in 1992, Ronald Koeman's strike sinking Sampdoria in the final at Wembley Stadium. They would add the UEFA Super Cup later that year and be runners up in the final once more in 1994. Moreover, Cruijff was instrumental in implementing the 'Dutch influence' at the club and a style of play that came to be known as tiki-taka, characterised by short passing and movement, working the ball through various channels and maintaining possession as well as the promotion of youth. The style would be continued and developed at the club by Louis van Gaal and Frank Rijkaard, the latter lifting the UEFA Champions League with the Catalans in 2006, overcoming Arsenal 2-1 at the Stade de France; while internationally, it would be successfully adopted by Spain at Euro 2008, the 2010 FIFA World Cup and Euro 2012.
Fellow Dutchman, Hans Croon would taste Cup Winners' Cup glory with Anderlect in 1976 as would Ad de Mos with Mechelen in 1988. Huub Stevens, enjoyed UEFA Cup success with German side, Schalke 04 in 1997 and Dick Advocaat took Zenit St. Petersburg to glory in the same competition in 2008 where the Russians overcame Glasgow Rangers 2-0 through goals from Igor Denisov and Konstantin Zyryanov, before adding the UEFA Super Cup later that year, beating Manchester United 2-1; while Rinus Michels was named FIFA Coach of the Century in 1999.
Many great Dutch players have graced European club competition but few were more instrumental to a team's success than Gullit, van Basten and Rijkaard. The Dutch trio were a vital part of the all-conquering AC Milan team of the late 80's and early 90's; the club securing the UEFA European Cup, UEFA Super Cup and the Intercontinental Cup back-to-back in 1989 and 1990.
The Netherlands continues to produce a copious amount of talent for the game the world over which can be clearly illustrated by their appearance under Bert van Marwijk in the 2010 FIFA World Cup Final despite their 1-0 loss to Spain and the fact that the Dutch were ranked at number 1 in the FIFA World Rankings between August and September 2011, becoming only the second national football team after the Spanish themselves to top the rankings without previously winning a World Cup. A third place finish would follow at the 2014 FIFA World Cup, under Louis van Gaal in Brazil and currently, the Netherlands are ranked sixth as of 7th May 2015.
The Problem(s)
The implementation of the Bosman Ruling in 1995 which removed restrictions on foreign EU players within national leagues and allowed players in the EU to move to another club at the end of their contract without a transfer fee being paid led to a lack of stability and continuity within Dutch clubs from one season to the next and is one of three key factors that KNVB President and former Ajax chairman, Michael van Praag highlighted when addressing the Dubai International Sports Conference in 2010, alongside agents and the millions on offer in Europe's biggest leagues: "Holland is a country of 16 million people, while England for example is a country of 60 million. The difference in TV rights money the two leagues generate is huge and we can't cope with the salaries our players are offered elsewhere."
Despite American based Australian tycoon, Rupert Murdoch securing the rights to broadcast the Eredivisie for 12 years at a cost of 1 billion euros in August 2012, taking effect from the beginning of the 2013/14 season (meaning each Eredivisie club should annually receive 4 million euros); the deal comes up short compared, for example, to the FA Premier League which from 2013 has generated 2.2 billion euros per year in domestic and international television rights. In addition, the Deloitte Money Football League, compiled by accountancy firm, Deloitte, which ranks football clubs each year on the basis of revenue generated from football operations each February, contained no Dutch clubs in its top 30 for 2013/14; but did however, contain three Spanish clubs (Including top ranked Real Madrid who raked in €549.5 million in revenue), four German clubs, five Italian clubs and a whopping fourteen English clubs. Thus, with little hope of competing financially, Dutch clubs have become dependent on selling their best young players every season to make ends meet to which van Praag declared: "Dutch sides have become feeder clubs that is the only way to put it. Everything changed after the Bosman Ruling. Back when I was chairman of Ajax we lost Patrick Kluivert on a free transfer to AC Milan. But he wasn't successful so they sold him a year later for US$10m. We had educated Patrick for 12 to 13 years and received nothing."
Worrying trends have emerged with young Dutch players and those trained in Dutch academies being plucked from Dutch youth systems prior to even making their debut at first team level and others such as: Royston Drenthe, Christian Eriksen and more recently, Memphis Depay, being signed up by clubs from Europe's biggest leagues after a relatively short time in the first team at Feyenoord, Ajax and PSV respectively.
Drenthe, who was snapped up from Feyenoord after playing just 29 first team games by Spanish giants, Real Madrid, had loan spells at Hercules and Everton but only managed 46 appearances and two goals for Real between 2007 and 2012. Thereafter, the Rotterdam native has crisscrossed the continent in spells with Alania Vladikavkaz, Reading, Sheffield Wednesday and now plies his trade in Turkey for Kayseri Erciyesspor who were relegated from the Turkish Super Lig in 2014-15.
Notably, those players taken out of Dutch academies fail to gain key experience at the highest level for their clubs and are often farmed out on loan indefinitely before being released into obscurity: a prime example of this is Sunderland's, Patrick van Aanholt, who was part of the PSV youth system until the age of 17 when he joined Chelsea. From there, van Aanholt spent time on loan at no fewer than five clubs: Coventry City, Newcastle United, Leicester City, Wigan Athletic and Vitesse between 2009 and 2014. How many appearances did he actually make for Chelsea before being sold to Sunderland in the summer of 2014? Two! Having represented the Netherlands at every age group from U16 through to the full national team, surely his apprenticeship would have been better served playing consistently and establishing himself in the Eredivisie for PSV as opposed to embarking on the odyssey that his fledgling career has thus far become?
Such is the opinion of Dutch legend, Johan Cruijff, who urged young players to follow the example of Daley Blind in the wake of the 24-year-old's £13.8m move to Manchester United from Ajax in the summer of 2014 in his column in De Telegraaf and relayed through his personal website: "Educated at Ajax, on loan to FC Groningen and improving step by step at Ajax to eventually gain a top transfer to Manchester United after the World Cup. But apparently, even a role model like Blind cannot prevent children to leave Ajax too early and move abroad."
"Not one Dutch player comes to mind who has actually reached the top after moving abroad as a teenager. Unfortunately not every parent realises a football player has only one agent, but an agent sometimes has ten football players under his wing. If one of them fails, they move on to the other. A lot of talents have suffered from this the last couple of years."
Cruijff, like van Praag, places the blame for the rising numbers of young players taking an early route abroad at the feet of agents: "I do not want to tar every football agent with the same brush, but some of them… They are one of the biggest problems in football."
This has also proved a major problem for Dutch clubs competing in elite European club competition in recent years. For example; Ajax, the Netherlands' most dominant club domestically, winning four consecutive titles between 2011 and 2014, before PSV broke their stranglehold in 2015, have failed to make progress out of the group stages of the UEFA Champions League in each of the last five seasons. Moreover, despite qualifying on each occasion for the latter stages of the UEFA Europa League by virtue of finishing third in each of their UEFA Champions League groups the Amsterdam club have only twice progressed past the second round, making the round of 16 in 2010/11 and again in 2014/15.
In that time, a multitude of notable players have worn the Ajax shirt before being sold on to Europe's biggest leagues; what could a squad containing the likes of: Maarten Stekelenburg, Keneth Vermeer, Jasper Cillessen, Nicolai Boilesen, Gregory van der Wiel, Ricardo van Rhijn, Toby Alderweireld, Joel Veltman, Jan Vertonghen, Niklas Moisander, Urby Emanuelson, Jairo Reidewald, Daley Blind, Lucas Andersen, Lasse Schone, Davy Klaassen, Daley Sinkgraven, Christian Eriksen, Thulani Serero, Viktor Fischer, Riechedly Bazoer, Siem de Jong, Ricardo Kishna, Anwar El Ghazi, Arkadiusz Milik, Kolbein Sigþórsson and Luis Suarez, have done on European club football's biggest stage had they been allowed to remain together and evolve as a team over the course of those five years?
Sadly, we will never know.
Click on Steven's name above to follow him on Twitter